Leveraging Online Marketing For Real Estate
Learning Lessons for Successful Campaigns for Realtor
Real estate is a very competitive market. We speak to many realtors and we find they struggle with very similar marketing issues. Having a visually appealing and mobile friendly website is not difficult. However, driving traffic and converting the traffic to qualified leads is a challenge. That brings us to the most important question…..How do you find qualified clients? Let's first look at data about search volume trends for real estate in Ontario. Within the last year, the volume of searches for real estate in Ontario has remained fairly steady. It's interesting to see that small towns i.e., Kawatha Lakes, Collingwood, Orangeville and Halton Hills are experiencing the most demand in terms of volume. (*Wink* great areas to advertise!)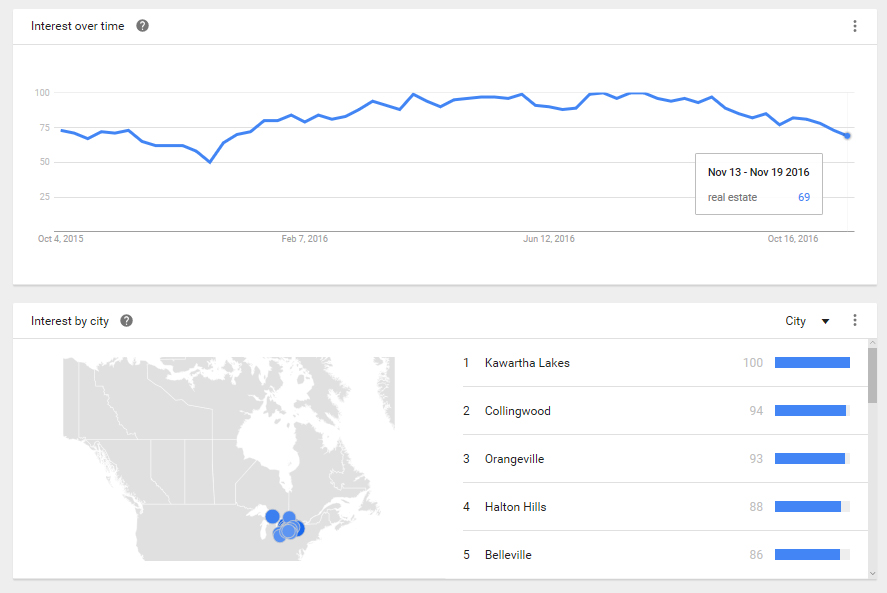 What is the Display Network?
The Google Display Network (GDN) is a network of websites with advertising space where you can place your ads. You can use it to precisely target engaged audiences – to deliver the best possible results to both users and advertisers. It's a simple, cost-effective way to advertise on millions of high-quality news pages, topic-specific websites, video sites and blogs. Essentially, the Google Display Network has a high-level overview and there are two ways to target potential clients: 1.
Website-based targets:
Which target a set of websites, based on some criteria, and show ads to all users on those sites. 2.
User-based targets:
Which target a set of users, based on some criteria, and shows them ads to on all sites they visit on the Google Display Network.
Ok.. that's great, but how can I use this to sell more houses?
The data is telling us that people are actively using the internet to find property.
Data collected
by Google and the National Association of Realtors pointed to some intriguing trends related to the digital realm effect on the home buying experience. Check out some highlights from the report below… ● Real estate related Google searches have grown
253%
over the past four years ● Shoppers will perform an average of 11 searches prior to taking action on a real estate site. ● 69 percent of home shoppers who take action on a real estate brand website begin their research with a local term (eg. Houston homes for sale) on a search engine. ● Mobile applications are used by 68 percent of new home shoppers at the onset and throughout their research. Where do new home shoppers use their mobile devices? Here's the breakdown: 77 percent at home, 31 percent at work, 28 percent when waiting in line, 27 percent at restaurant and 26 percent at other peoples' homes. ● YouTube is the top video research destination for home shoppers ● 78 percent of new home shoppers visit three or more sites prior to taking action on a real estate site. ● 31 percent of home shoppers who take action on a real estate site are aged 25 to 34. ● 52 percent of first time buyers started their search online. ● 77 percent of first time buyers drove by a home viewed Alright, now we understand the internet can potentially be a holy grail of opportunity for real estate, what the different ways that you can reach out to potential clients? I've listed a number of targeting opportunities through the GDN network.
Contextual Targeting:
Target your audience based on their keyword search, topic search or placement search (sites they visit). For example, if you are trying to sell pre-construction property you can actively target people who are searching for pre-construction property based on their keyword searches in a particular demographic location.
Audience Targeting:
Target your audience based on their interests, demographics or through remarketing. You can display your ad's to people who are looking to invest in real estate property, purchase a home, or sell a home within an age demographic.
Remarketing:
is a clever way to connect with visitors to your website who may not have made an immediate purchase or enquiry. It allows you to position targeted ads in front of a defined audience that had previously visited your website – as they browse elsewhere around the internet. You can also use Google's look-a-like technology to find consumers with similar browsing habits to people on your remarketing list. It's a great tool to use to find new customers to present yourself too.
Affinity:
Affinity targeting is similar to interest targeting, but it matches your ads to users who habitually visit sites of the similar topic. These are great long term interested potential clients. Consider matching your offer and promoting more advanced or specialty products or services for these experienced users. As a realtor, you can use these targeting methods to reach potential clients by advertising on home blogs, indoor decor blogs, etc…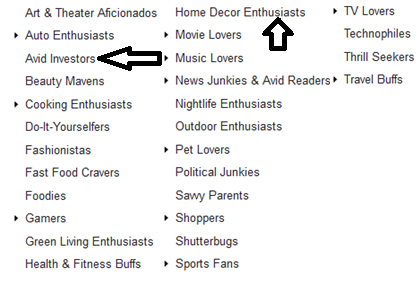 In Market Audiences:
In market audience targeting shows your ad to users whose search and internet browsing behavior indicates that they may be "in market" for a certain product or service. For example, a user starts to repeatedly search for new home listings on
Condos.com
or
MLS
. This person is essentially "in market" to find a home and can be targeted.
Managed Placements:
A managed placement target is the most direct way to target a website. Simply choose the website/pages you want to show your ad. You can use the Display Planner Tool to get traffic and cost estimates, see which ad formats the site supports, and get ideas for other similar placements.

Topic Targeting:
Topic targeting on the Google Display Network allows you to target all sites and pages about a certain pre-defined topic. Topic targeting is similar to managed placements, but considerably less restrictive. Topic targeting allows advertisers to reach a wider audience than they can reach with just managed placements.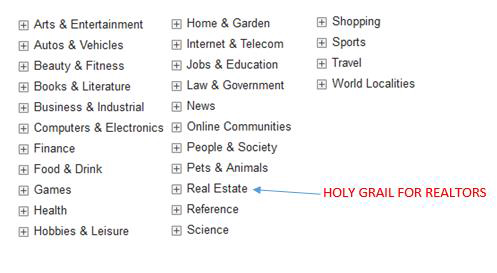 Conclusion
There are many ways that you can find your target customer if you are a realtor, builder, broker, or sales representative. However, working with professional technicians who can help you put together a strategy to target your customers through many forms of online advertising can help you dominate the online game. Don't be afraid to test out new ways to reach your customer!
Check out the live stream of our latest event regarding marketing for the real estate industry.